Price

RM249.00

RM299.00

Product SKU
AHD700-1TU3-CBK
Brand
ADATA
Availability
In Stock

COLOUR

Quantity
Description
Highlight
Durable
Original
3 Months Local Warranty from Purchase Date
Spare parts at great prices
Good quality
Learn more about the
ADATA AHD700-1TU3-CBK
Dust/Water proof (IP56)
Military-grade shockproof
Triple-layer protection
Two-tone design with durable silicon shell and patterned center

The ADATA HD700 is professionally-crafted to be a durable external hard drive for your most demanding experiences. Officially IP56 water- and dust-proof certified, it features three layers of physical protection that consists of the inner cushion mounting, the plastic enclosure and the silicone rubber. For enhanced safety, this USB 3.0 portable drive also has an integrated G sensor that safeguards your files from accidental drops or fall, and 256-bit AES encryption for data security against unauthorized access. Available in Black or Blue and with 1TB/2TB capacity options, the HD700 offers you a solid storage solution you can count on even in the most challenging environments.
Be Mightier with IP56 Water and Dust Proofing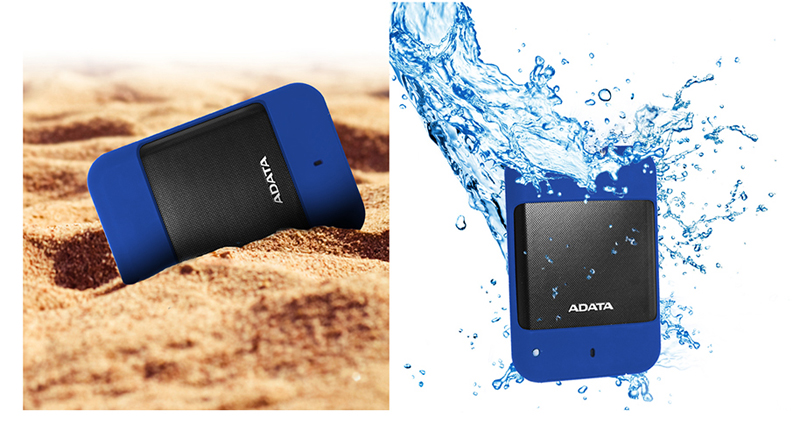 Triple-Layered For Military-Spec Shock Resistance
The HD700's enclosure is further wrapped in a tough silicone coat. All told, there are three layers of physical protection: the inner cushioned mounting, the shock-resistant plastic enclosure, and the removable silicone/rubber layer. The internal structure is made of just the drive and the mounts to reduce the number of shock-prone parts. The HD700 can easily withstand accidental drops or impacts from your activities, as it meets MIL-STD-810G 516.6 requirements.

Big Files? Be Fearless and Store away!
The time has come to capture your experiences in always-greater fidelity, with higher resolution and detail density. That means bigger files, and the need for larger storage. The HD700 is available in up to 2TB, the perfect size for portable storage of the adventurous type.
G Shock Sensor Protection
G Shock Sensor Protection helps protect your data. If your HD700 suffers a severe shock from being struck, G Shock Sensor Protection automatically starts up and displays a flashing red light. When the shock has passed, a solid or flashing blue light displays indicating normal operation has resumed.
Images
Product images are for illustrative purposes only and may differ from the actual product. Due to differences in monitors, colors of products may also appear different to those shown on the site. Part numbers (for Dell parts, usually five digits), can reduce the possibility of error in purchasing. The best method is to ask our support team if you have any doubts.
Products Details
Some products may have an associated image, photo or product specs. These are for reference only and should be considered especially when you see any conflicts in the pictures, the description or the pricing. Our team does work very hard to improve our product listing quality from time to time. However, if you have any questions, please feel free to ask us before payment is made here: CONTACT US (CLICK)
Reviews (0)
view all
back
What's in the box
1 x ADATA 1TB HD700 Portable External Hard Drive USB 3.0 Model AHD700-1TU3-CBK CBL